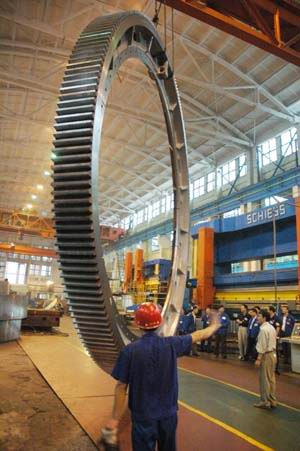 GEARX is a leading supplier of large-sized gear products and special gear products in china, based on the powerful ability of smelting, casting, forging, heat treatment and machining in the native, Through GEAXR's professional experiences, We supply large-sized gear products to the global steel, energy, electricity, petrochemical, cement, mining, ocean engineering, shipping, astronomy and heavy machine tools industries.
These gear products are included the girth gear, rack, gear segment, heavy duty gear,high speed gear,double enveloping worm gears, spiral bevel gear etc.
GEARX can also provide our customers the precision mechanical components which included nut column,worm rack, chock, antenna track etc.
We believe that aggressive innovation is the core for the enterprise's growth and progress, and the essence to satisfy the ever-increasing demand of our customers. The service we offer is to make customer's purchasing simple, efficient and cost saving! With our professional experiences serving the gear transmission market worldwide, we hope customers can get what they need from one single source, or one single e-mail address, i.e., This email address is being protected from spambots. You need JavaScript enabled to view it..